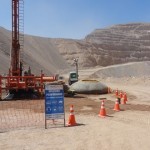 It is a safety and occupational risk prevention policy for Mineral Drilling, to guarantee the carryout its activities in a safe way for all its workers, work environment and processes involved in its operations. Our company has the commitment to carry out a set of actions to identify, eliminate and control all risks that could harm people and their work places.
The set of actions for the fulfillment of this objective is:
To promote and instill the concept of awareness or self-protection among our workers, as main responsible for good protection practices of their integrity, so they don't stop productive processes or cause damages to equipment and materials.
To fulfill all the effective norms, laws and regulations to work in the mining industry, as well as, all those commitments that have been internally established for preventive and safe work.
Promote an active participation culture and commitment of our workers to carry out programs of cooperation in prevention, and this way obtain operational excellence.
Define correct layout and maintain all our places of work under high standards of safety to reduce exposure of our workers to accidents.
Continuous improvement on safety procedures and programs.
Permanent training in risk prevention, occupational health and programs of environmental care.